At the Margaret River Uniting Church we welcome community and other groups to use our space for meetings, gatherings, fundraising events and more.
We have a beautiful Grand Piano in our worship space/auditorium, AV facilities including a digital projector and screen, and seating for approximately 100 people.
We also have a great multi-use community space (38 people) adjoining a courtyard, and non commercial kitchen facilities which is used by a variety of groups including our playgroups, pre-kindy classes and music groups. Our church centre also offers a smaller meeting room (12 people) for small groups.
Our spaces can be booked for one-off meetings or events, and can be booked for regular events depending on availability and purpose. Regular bookings will need to be referred to the Margaret River Uniting Church Council (see email contact below). Labyrinth available for people to walk at any time. Can be booked for groups also.
Minimum hire is two hours. Special rates for non-profit organisations.
Information about booking our centre, a booking form and our pricing structure can be found on our Booking Enquiry page. Please note conditions may vary due to Covid regulations.
You can also contact the church by email for general enquiries – [email protected]
Please fill out the venue booking hire and indemnity form
If you would like to enquire about availability of our church building please complete the contact form below and a representative will be in touch with you shortly.
You can also download the booking form, pricing and information here – Venue Booking Form 2023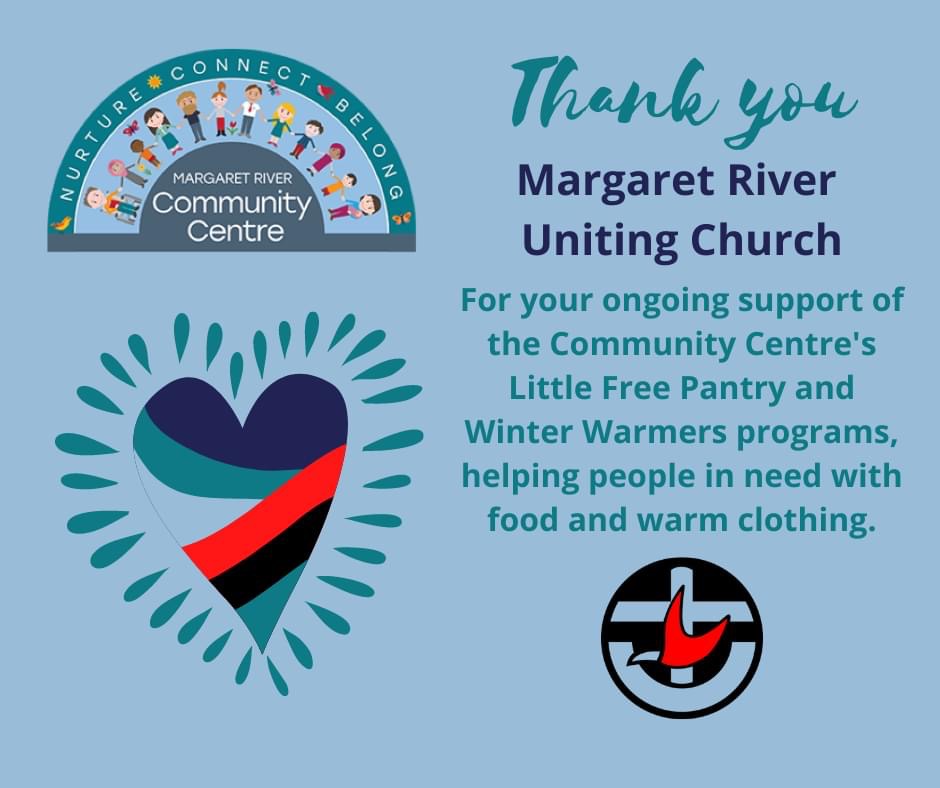 Community Pantry Ongoing Support
The congregation is committed to the ongoing support of the Margaret River Community Centre's initiatives of 'Winter Warmers' and the Little Free Pantry. Each fortnight a collection of clothes and pantry items are taken to the centre, to be distributed within the community.
In 2022, $400 was raised for the pantry through a concert held at the church.
Sustainability Connections
During September each year, our church has a focus on the environment during Sunday Services. In 2021 we held a viewing of the film, 'Albatross'. Tangaroa Blue co-ordinator, was present with a display of their beach cleanups and gave a brief overview of their work. We were pleased to be able to donate the proceeds from the viewing, of $280.
In 2022, we celebrated world environment day as well as Sustainable September. Our own sustainability practices are being monitored so we can explore the best options to reduce our emissions to meet the targets recommended by the Uniting Church Western Australia Synod 2022.