Deep Listening Forum Committee Announcement – August 2019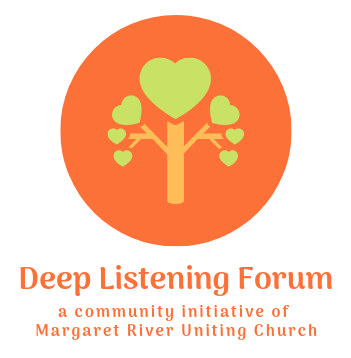 Our Committee met on Tuesday 20th August and after thoughtful consideration have decided to postpone the next Deep Listening Forum which was due to be in March next year.
There were a number of reasons for this including that there are now only four of us on the committee, many people have been away over winter and others have been ill. This has all put us on the back foot with our timeline of organisation and feel it would put us under too much pressure to be ready by March.
The topic of trauma had been chosen for next year, and we are still committed to that, as there is a great need in Margaret River. It is such an important issue and we need to make sure we get it right and also involve others in the community in our planning. We also need to source funding all of which will take more time than is available on our current timeline.
Brian, our Treasurer, has organised the new bank account for Deep Listening Forum and there has already been a donation deposited. The account details are:
Margaret River Uniting Church
BSB 016-520
Account No. 317019017
Notation: "DLF"
We still plan to meet regularly and to encourage others to join our committee. Please talk to any of us if you are interested.
(Rene, Elizabeth, Muriel and Mary)