On Tuesday 21 May 2019, some 20 supporters, leaders past and present, and participants past and present, gathered to celebrate the 10th anniversary of Margaret River English Club with a Korean meal prepared by chef JD Kim, a former participant and now owner of Margaret River Kimchi, and a 6-layer rainbow celebration cake from Grab A Spoon, Cowaramup.
10 years ago, on 21 May 2009, 6 young backpackers, all from Korea and all on working holiday visa in Margaret River, gathered to begin casual conversation in English, under the auspices of the Margaret River Uniting Church.
Since that time, nearly 2000 young adults have passed through the program. Taiwan has had the most participants, followed closely by South Korea, however, 9 other Asian countries, 15 European countries and 4 countries from South America have all been represented by one or more participants.
Additionally, some 26 local folks have assisted by being discussion or small group leaders over the years.
At our celebrations, it was noted that 11 marriages have also come out of English Club friendships!
Participants were invited to relate a memory of their time in English Club. Several funny stories were related, along with heartfelt thanks to the Uniting Church and the community of Margaret River for their support.
English Club continues to meet every Tuesday evening from 5 – 7pm during school terms. New participants are always welcome.
New discussion leaders are also invited to make contact with Barbara Maidment, Convenor, on [email protected]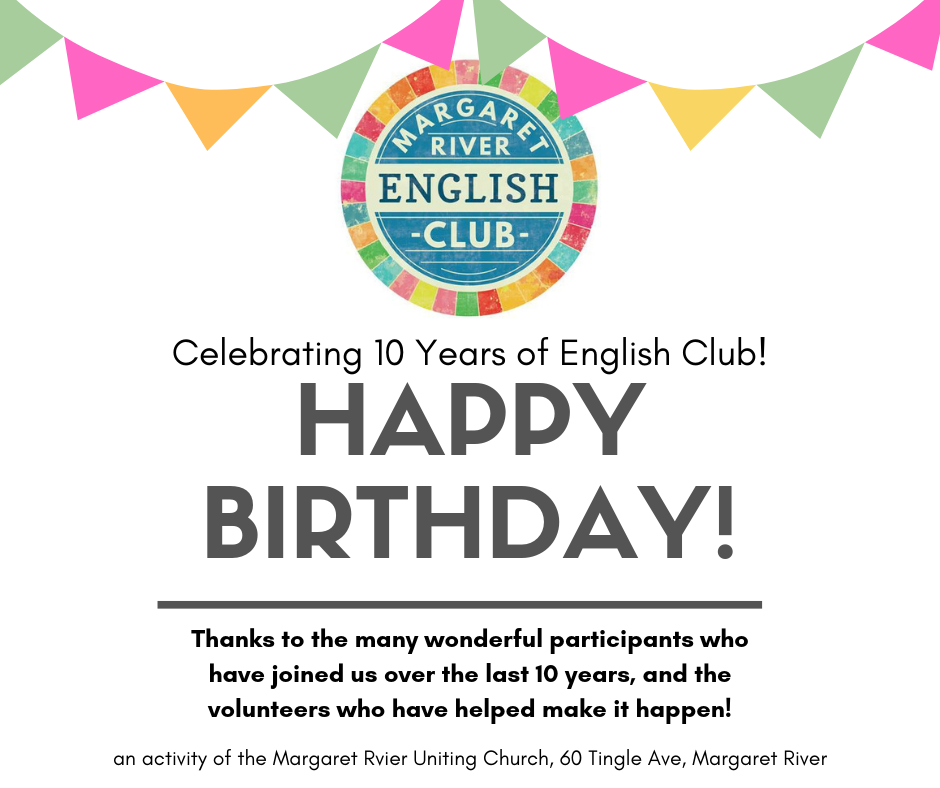 Article credit to Barbara Maidment, photos by Theo Matthews.
The Margaret River Uniting Church congregation are so grateful for the dedicated work of Barbara, and the other volunteers that have helped make English Club happen, and of course to the wonderful participants who have passed through our doors over the last ten years!